Award Winning Mortgage Brokers For Lawyers
How We Save Lawyers $80,000 On Average
We Help Lawyers Access Special Home Loan Discounts Below The Advertised Interest Rate
Specialist Interest Rates for Lawyers
We negotiate a special 'Lawyers Only' rate for you, backed by a 98% approval rate. No matter your financial circumstances, we will find your best options as a lawyer within just 24 hours. 
Say goodbye to paying for lender's mortgage insurance (LMI). We save lawyers an average of $16,500 on just LMI! We also waive all loan set-up costs, passing on more massive savings to you.
We Cover Annual Loan Fees for Lawyers
We're so confident with our offering for lawyers that we pay your annual loan fees! This applies for all home loans above $500k, saving you an additional average of $11,850 over the lifetime of your loan!
Cash Back Offers for Lawyers
Speak to one of our senior brokers now and get the best cash backs offered by Australia's leading banks. Get up to $4,000 in cash back and save! Our brokers will find you the best deals in the market.
We Make Home Loans Easy For Lawyers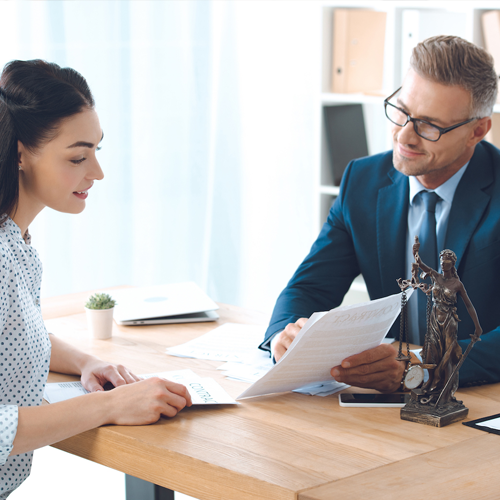 We Get Tough Home Loans Approved for Lawyers
We're your first and last mortgage brokers. Our lawyers mortgage specialists are the people who get called when no other broker can get a loan approved.
Our senior brokers have extensive experience working in major Australian banks as the people who approve or decline loans. In other words, we know what the banks are looking for when it comes to getting any home loan approved for lawyers.
Each of our senior brokers are ranked amongst the top 100 brokers in Australia. This means that no matter who you speak to at our brokerage, you're speaking with the best in the industry.
Speak to one of our senior brokers today and we'll present you with your best options moving forward!
Special Loan Discounts for Lawyers
People needing legal advice run to lawyers for help. But who do you seek if you're a lawyer seeking to finance your home loan?
A specialist mortgage broker for lawyers!
As a lawyer, you can get special loan discounts when applying for a home loan.
Why? Because banks and lenders see you as a low-risk borrower!
In other words, lawyers like you rarely default on your home loan, posing little risk to your lender. You may qualify for the following lawyer home loan discounts:
Lenders' Mortgage Insurance (LMI) waiver

Get approved for up to 90% property value or LVR

Finance loan amount up to $2.7 million

Get flexible credit terms and criteria
I'm a lawyer; how much can I borrow (LVR)?
Our lawyer mortgage brokers can help you get your home loan approved for:
Up to 105% Loan-to-value ratio (LVR) with a guarantor

90% LVR with no LMI
You may also enjoy the following perks with a lawyer mortgage broker at your back:
Negotiate competitive interest rates

Flexible credit line to finance your legal practice

Purchase several investment properties with a higher exposure ceiling

Enjoy home loan

refinancing options
How much can I save from LMI?
Let's consider a scenario.
If you're applying for a 90% home loan on a $1,000,000 Sydney property, your lender will impose an LMI fee to secure them if you default.
An LMI fee in this loan term can run around $24,000—a hefty fee!
But as a legal practitioner, you could have it waived.
We can negotiate an LMI waiver on your behalf, even if you ask for 90% of the property's value! Speak with our professional mortgage brokers or call 1300 889 743 to discover if you qualify for a lawyer home loan discount.
90% LVR LMI-Free Home Loan
Our mortgage specialists have experience working with lending bodies and have access to special rates on a 90% home loan for legal professionals.
You don't need to reach a minimum income requirement. We can even negotiate to have your LMI waived.
To be eligible for a 90% LMI-free home loan:
Current practising certifcate

Is a permanent Australian resident or citizen working in the country
Let's discuss your home loan options at 1300 030 388, and contact us today.
I want a waived LMI home loan. Do I need to meet a minimum income?
In most cases, you need to earn a minimum of $100,000 per annum in the following states and territories:
Western Australia

South Australia

Northern Territory

Tasmania
Furthermore, you must earn a minimum of $150,000 annually in these states and territories to qualify for an LMI waiver:
New South Wales

Australian Capital Territory

Victoria

Queensland
That includes your income from rentals but not your spouse, except if they're also a lawyer or legal professional.
Consider this scenario. If you're earning $100,000 per annum, you won't meet the minimum requirement for an LMI-free home loan in NSW. But if your partner who's not a legal professional, earns $70,000, both of you classify as a high-income earner and waive LMI.
Skip the Minimum Income Requirement With Us
Lawyers and legal professionals often fall short of the minimum income threshold. But we have lenders in our panel that offer LMI waivers for lawyers with no minimum income requirement.
You also get the following loan terms:
Maximum loan amount of $3.6 million 

Max exposure limit of $7 million per borrower

The lawyer should own 50% of the loan property if you're applying as two borrowers.
Say you're a solicitor, and your spouse is an accountant. As a legal professional, you must have a 50% ownership interest in the loan.
Speak to our team today about your financial situation to confirm if you qualify at 1300 030 388.
Are other legal professionals eligible?
Yes! Other legal professionals such as lawyers, solicitors, barristers, or partners are eligible to apply.
Besides, job titles don't always match your occupation. So minor variations are accepted. You could work under the "Associate" or "Legal Counsel" job and qualify for a lawyer home loan.
Employees and judges under the Australian Government Solicitor don't need to provide a Practising Certificate under Judiciary Act 1903.
Do Judges and Magistrates qualify?
Australian judges and magistrates are also eligible for lawyer home loans. You only need to provide evidence that you don't need to hold a practicing certificate and meet the income requirement.
Are government lawyers eligible?
State and federal lawyers qualify for home loan discounts for lawyers. But if you don't meet the minimum income requirement, a lawyer mortgage broker may negotiate interest discounts and an LMI waiver.
Chat with our lawyer mortgage brokers today and discover tailored home loan solutions that fit your needs.
Why Aussie Lawyers Are Choosing Mortgage Pros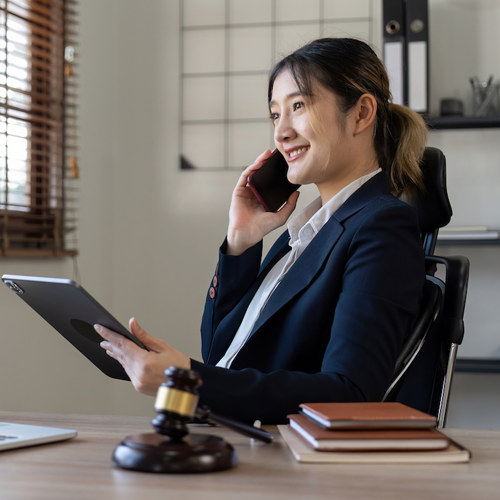 Our Mortgage Specialists For Lawyers
We negotiate the best home loan rates for Lawyers
Lawyer Home Loan Case Studies
CAROLINE'S FIRST HOME: 95%LVR WAIVED LMI FOR LAWYERS
Profile: Caroline is a solicitor based in South West Sydney and earns $140,000 per annum
Objective: She wants to buy her first home, an apartment, for $700,000 so she can be closer to work & stop paying $700 per week in rent.
Problem: While speaking to her bank, Caroline discovers that her $70,000 in savings is not enough. She will either need to save another $70,000 to make up a 20% deposit, dole out several thousand for LMI or ask her parents to act as guarantors for his home loan to be approved.
Solution: After discussing her situation with a colleague, Caroline is referred to her colleague's mortgage broker, Mortgage Pros, who specialise in home loans for lawyers. There she discovers that a few lenders offer home loans catered for lawyers!
She can borrow 99 percent of the property value without paying lenders mortgage insurance and even receives a larger interest rate discount. After crunching the numbers, Caroline is told if she borrows $630,000, 90 percent of the purchase price, she will save about $14,000 in LMI costs!
Like Caroline, you can save thousands on your home loan with an LMI waiver. You can always contact one of our mortgage brokers specialising in home loans for doctors by calling us on 1300 030 388 or enquiring online.
JACK'S PROPERTY PORTFOLIO: SAVINGS THOUSANDS BY REFINANCING
Profile: Jack is a lawyer based in Melbourne. He & his wife, who works in marketing, have a combined household income of $400,000 annually. Both have been very successful with property and amassed a portfolio of 5 properties across Australia, roughly half paid off.
Objective: With interest rates rising, Jack has seen his rates go from 2.19% to 6.80% in about a year. He was seeking to ensure that he was on the lowest rate possible and not paying more than he needed to.
Problem: Jack calls his existing bank and requests them to give him a better interest rate on his home loan. He wants the rates which are advertised on their website. They regret to inform him that they cannot assist as the rates on their website are limited to new bank customers & he is already on the best they can offer.
Solution: After discussing his situation with his family, Jack is referred to Mortgage Pros, who specialise in home loans for lawyers. They thoroughly analyse his situation & the market to find him the best deal. Jack refinanced all his loans and was able to achieve the following:
Lower the interest rates on her loans by 0.50%. Saving him approx. $21,000 per year in interest.
Taking advantage of cashback the bank was offering. He was able to obtain a $4,000 cashback per property. Hence as he had 4 properties the bank paid his $16,000 to move his business over.
JOSEPH'S CONSOLIDATION: IMPROVING CASHFLOW & SAVING ON INTEREST
Profile: Joseph is a NSW prosecutor based in Sydney. He owns two properties, an apartment that he lives in & an investment property up in QLD. With all the recent interest rate rises, he is starting to feel the pinch!
Objective: Joseph is looking to improve his cash flow by reducing his interest rates & hence his repayments, allowing him some more breathing room with his budget.
Problem: Joseph calls his existing bank, requesting a lower interest rate & to make all his loans interest only. To his shock & confusion, his bank tells him to change his loan to interest only a new assessment is required & that after doing the assessment his borrowing power shows he cannot afford the repayments.
Solution: Joseph ponders online and comes across Mortgage Pros who specialise in home loans for lawyers. He calls through & during his chat, is pleasantly made aware of an alternative, more suitable solution. By borrowing up to 90% with waived LMI on his properties, he can consolidate his car loan & credit card into the home loan. By doing this, it improves his borrowing power, cash flow & allows him to switch to interest only.
In addition, he was able to get a better interest reducing his rate by 0.35%. Joseph reduced the total repayments of his two home loans, car loan & credit card from $7,850 to $4,950!
What Lawyers Say About Us
We Help Professionals Get Home Loans Approved
Leverage our premium broker status and get cheaper interest rates across all professions
Get your best home loan deal
in less than 24 hours!
We're available 8am to 8pm, 7 days a week & work Australia-wide! There is no obligation, we'll get back to you within 5 minutes during business hours.